All our favorite Earth Day moments celebrating energy efficiency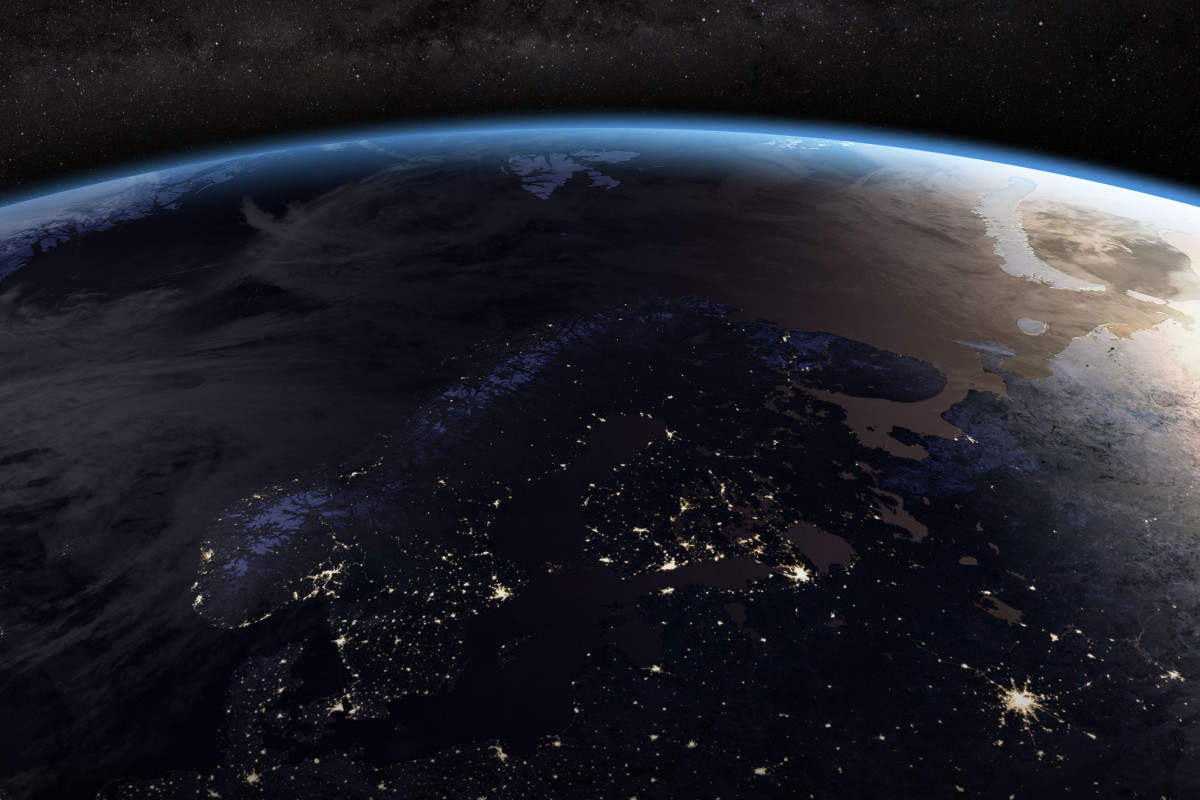 Earth Day 2022 may have come and gone already, but that doesn't mean we can't all savor the great conversations and amazing insights the day brought us both in person and across social media, especially those on our very favorite topic: How energy efficiency can help us get to that cleaner, greener, more sustainable world that much faster.
So, we admit a certain soft spot in our hearts for the associations around the U.S. working hard on this sustainability equation every single day. Here are a few of our top picks for Earth Day shout outs on Twitter, because we want you to enjoy these warm moments over and over again—which may be the best reuse/recycling thought we've had since April 22.
NW Energy Coalition
The account: https://twitter.com/nwenergy
The tweet: Thanks @POTUS for inviting us to an #EarthDay event in beautiful Seattle. Great to see @PattyMurray@SenatorCantwell@GovInslee and many members of Congress support our #CleanEnergy future.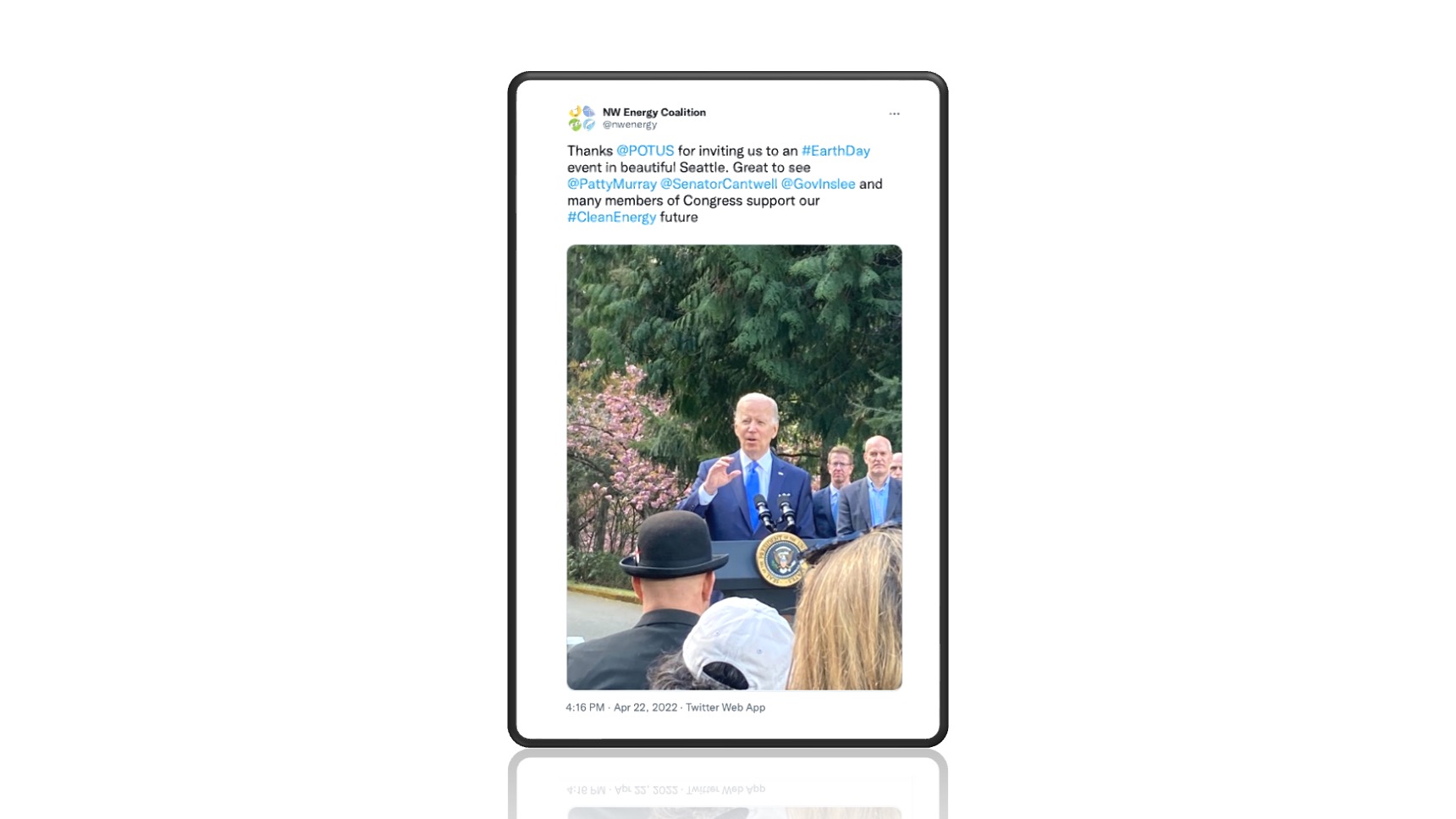 Electric Power Research Institute (EPRI)
The account: https://twitter.com/EPRINews
The tweet: Happy #EarthDay! #Sustainability & #environmental research is carving a path to meet global energy needs while creating a cleaner, healthier planet for all. Learn more about energy impacts on species & waterways, public health, air quality, equity & more: https://www.epri.com/environment-and-sustainability/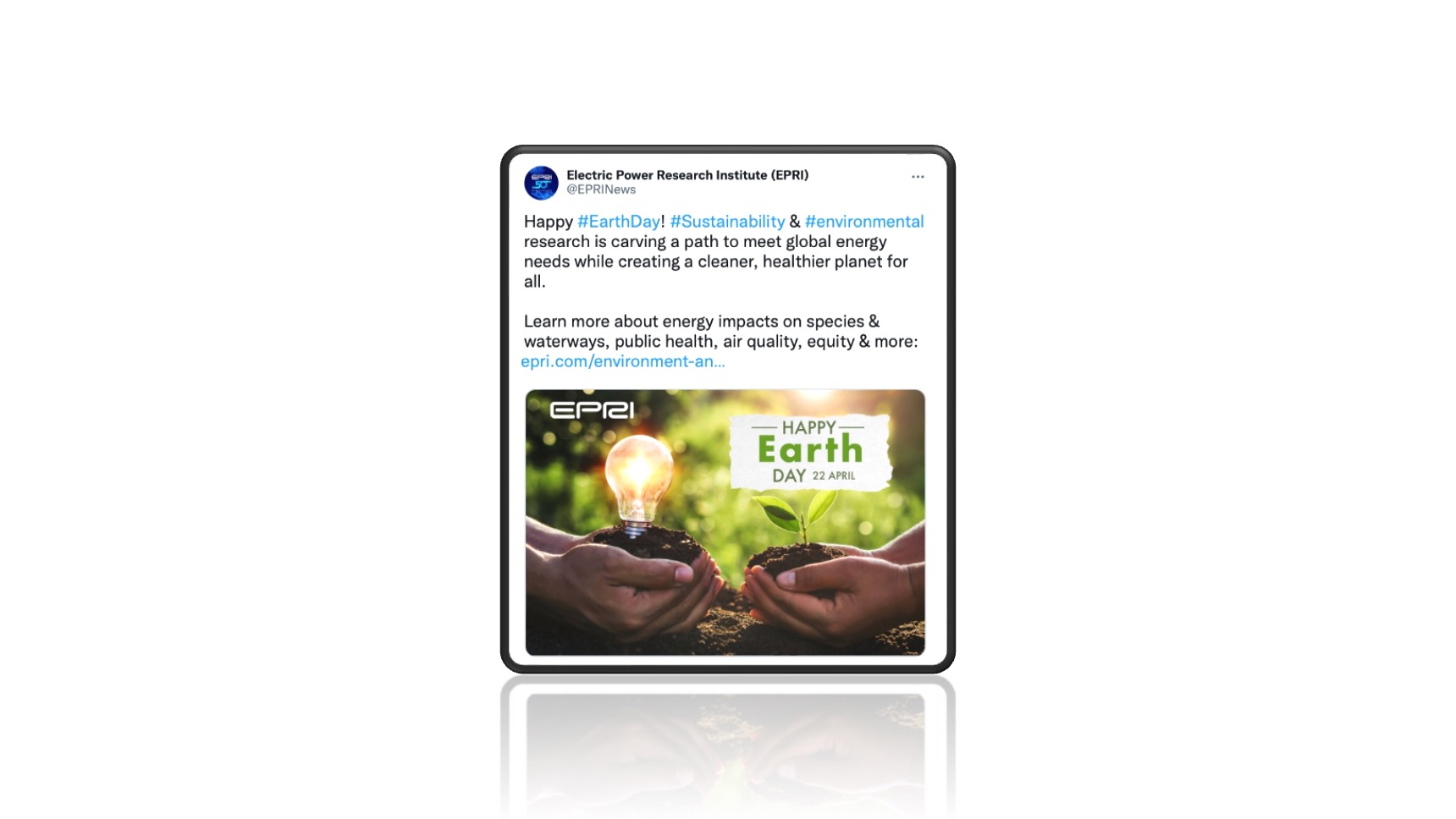 DC Sustainable Energy Utility (DCSEU)
The account: https://twitter.com/DCSEU
The tweet: Happy Earth Day, DC! Let's celebrate Mother Nature with these energy-saving tips. Looking for more tips? Visit the DCSEU website to learn more about how you can cut energy costs and emissions. #DCSEU #EarthDay2022 #EarthDay #TheDistrict #Sustainability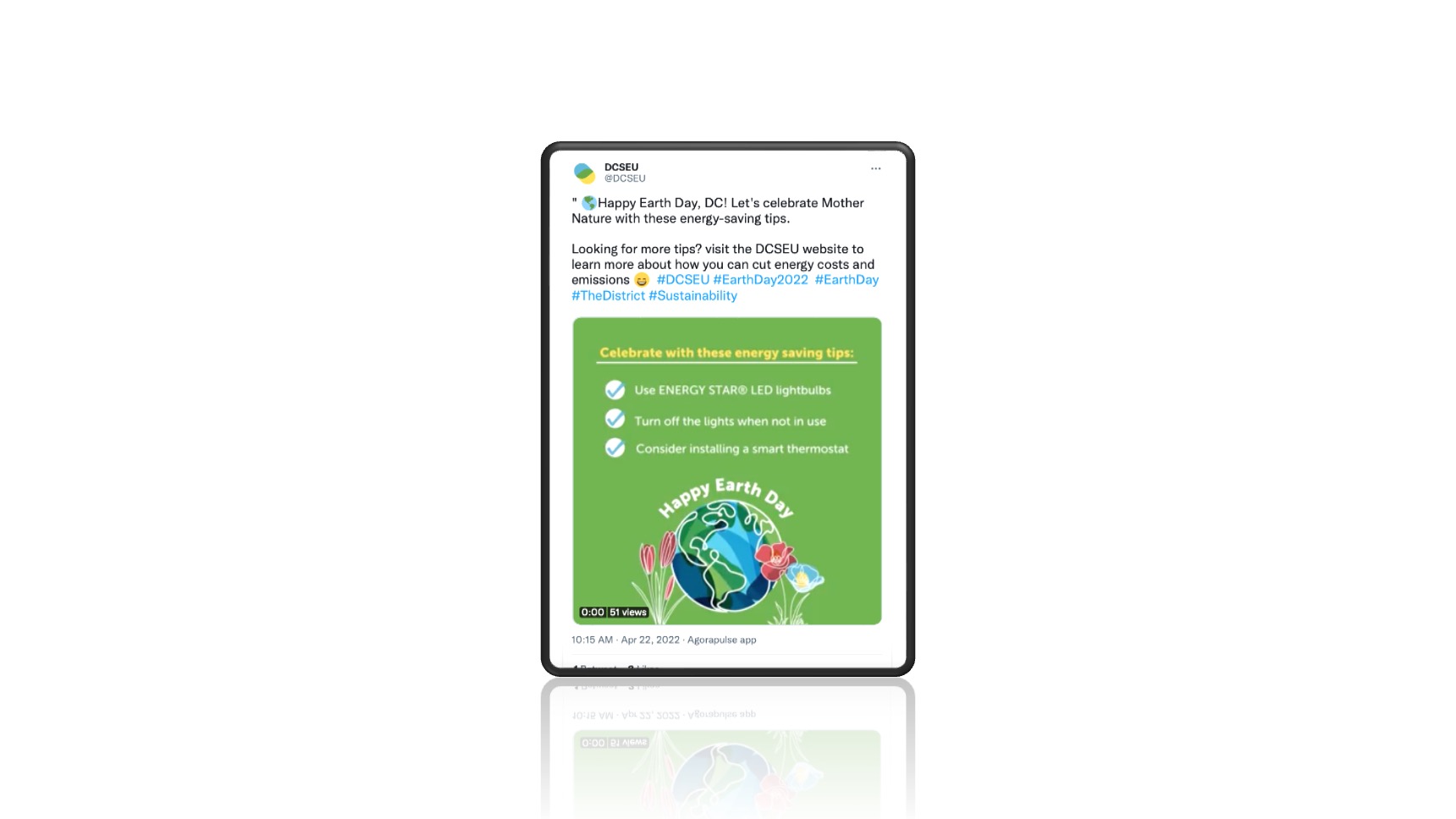 Rocky Mountain Institute (RMI)
The account: https://twitter.com/RockyMtnInst
The tweet: "The odds may look like they're stacked up against us . … So on this #EarthDay, I ask you to take a moment to apply your own hope: to roll up your sleeves and invest in the hard work to save out planet." @JulesKortenhors #InvestinOurPlanet @EarthDayhttps://rmi.org/this-earth-day-rmi-remembers-40-years-of-planet-saving-action/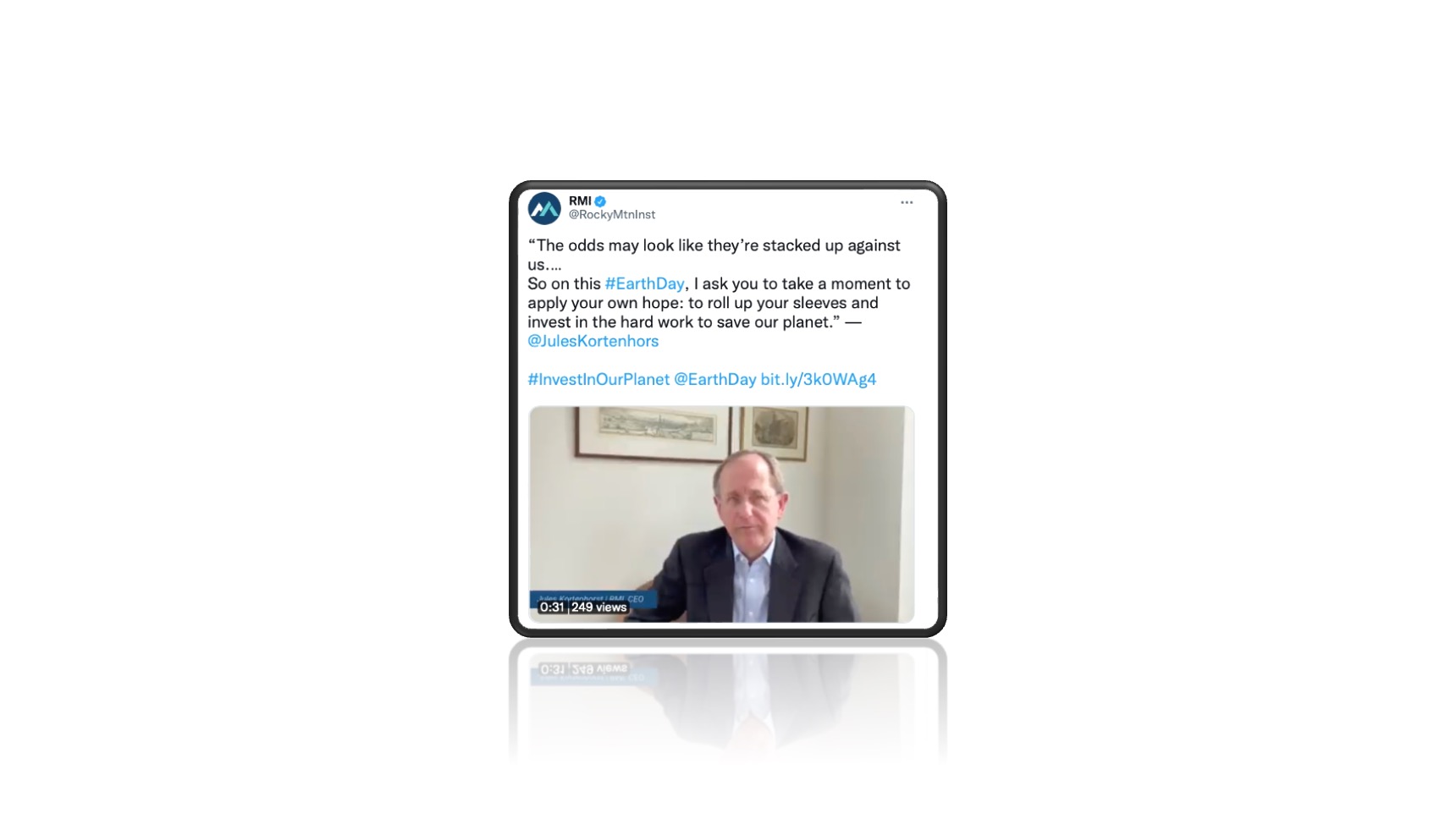 Alliance to Save Energy
The account: https://twitter.com/ToSaveEnergy
The tweet: The final installment of this year's @IPCC_CH report made it clear that we have clean energy technologies, like #energyefficiency, at the ready – we just need the investments in place to deploy them. Learn how we're prioritizing EE this #EarthDay: https://www.ase.org/blog/meeting-moment-earth-day-2022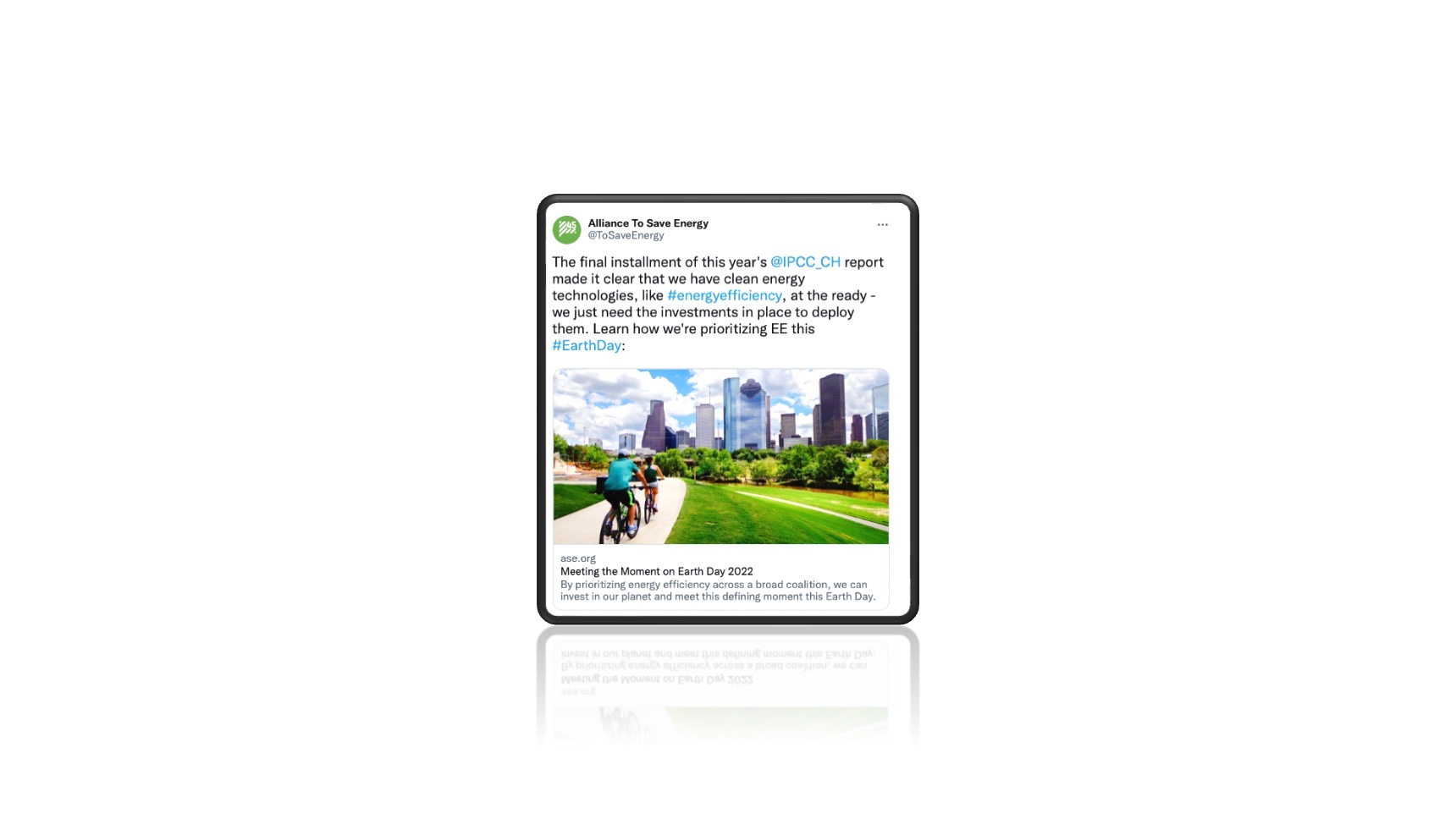 Building Performance Association
The account: https://twitter.com/JoinBPA
The tweet: "If it wasn't for the Earth, we wouldn't be here. That's why it is so important to take care of it. This is our only chance to live on a planet like this. If we don't take care of it, it will be gone, & so will out home." –Lucy Aronoff, 5th Grade Student https://bpa.connectedcommunity.org/blogs/macie-melendez1/2022/04/22/the-importance-of-earth-day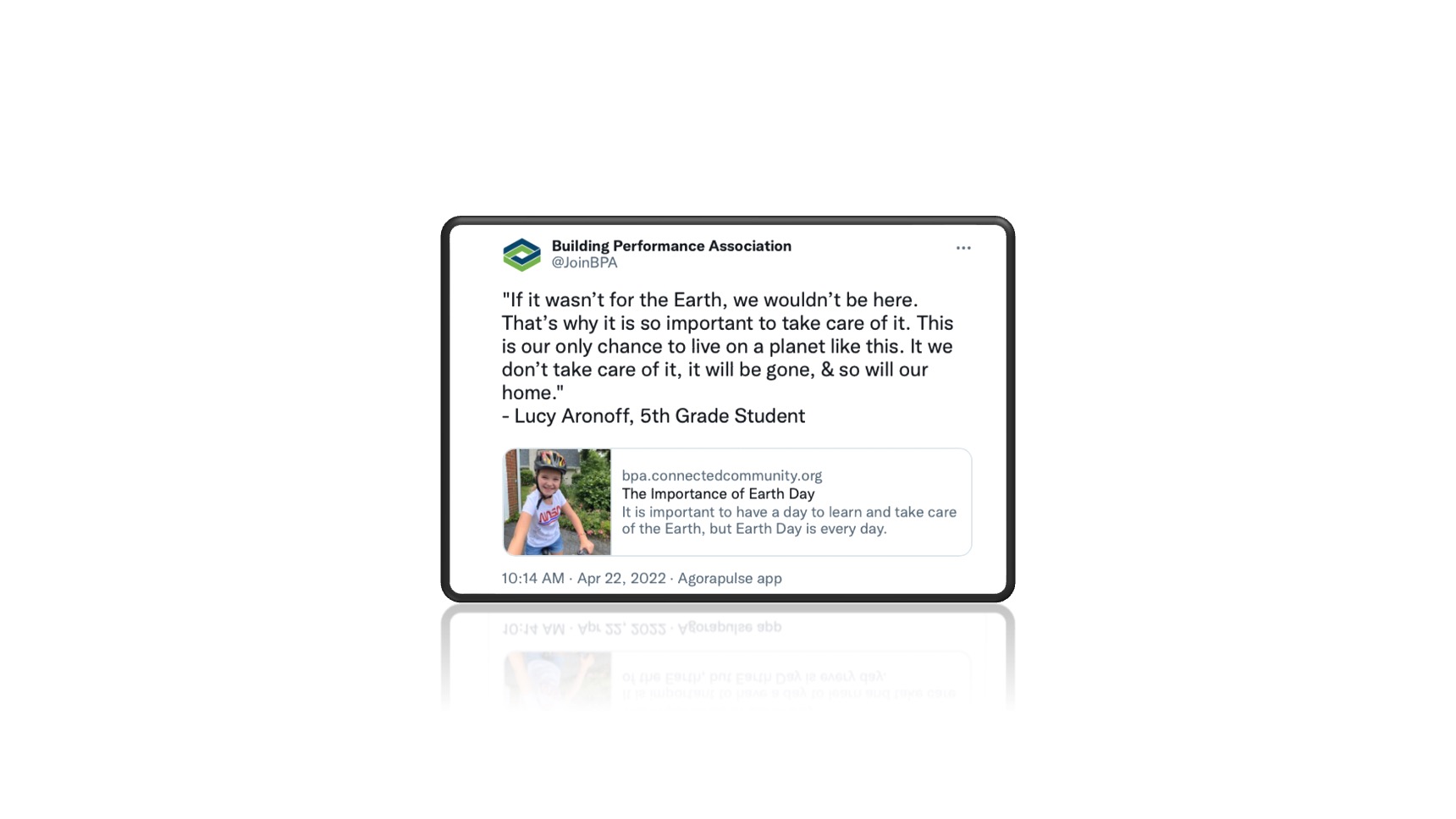 Southwest Energy Efficiency Project (SWEEP)
The account: https://twitter.com/SouthwestEE
The tweet: Drive Electric #EarthDay is an offshoot of Drive Electric Week, a long-running annual event hosting meetups around the world. https://electrek.co/2022/04/19/drive-electric-earth-day-runs-all-of-april-with-in-person-outdoor-events-around-the-us/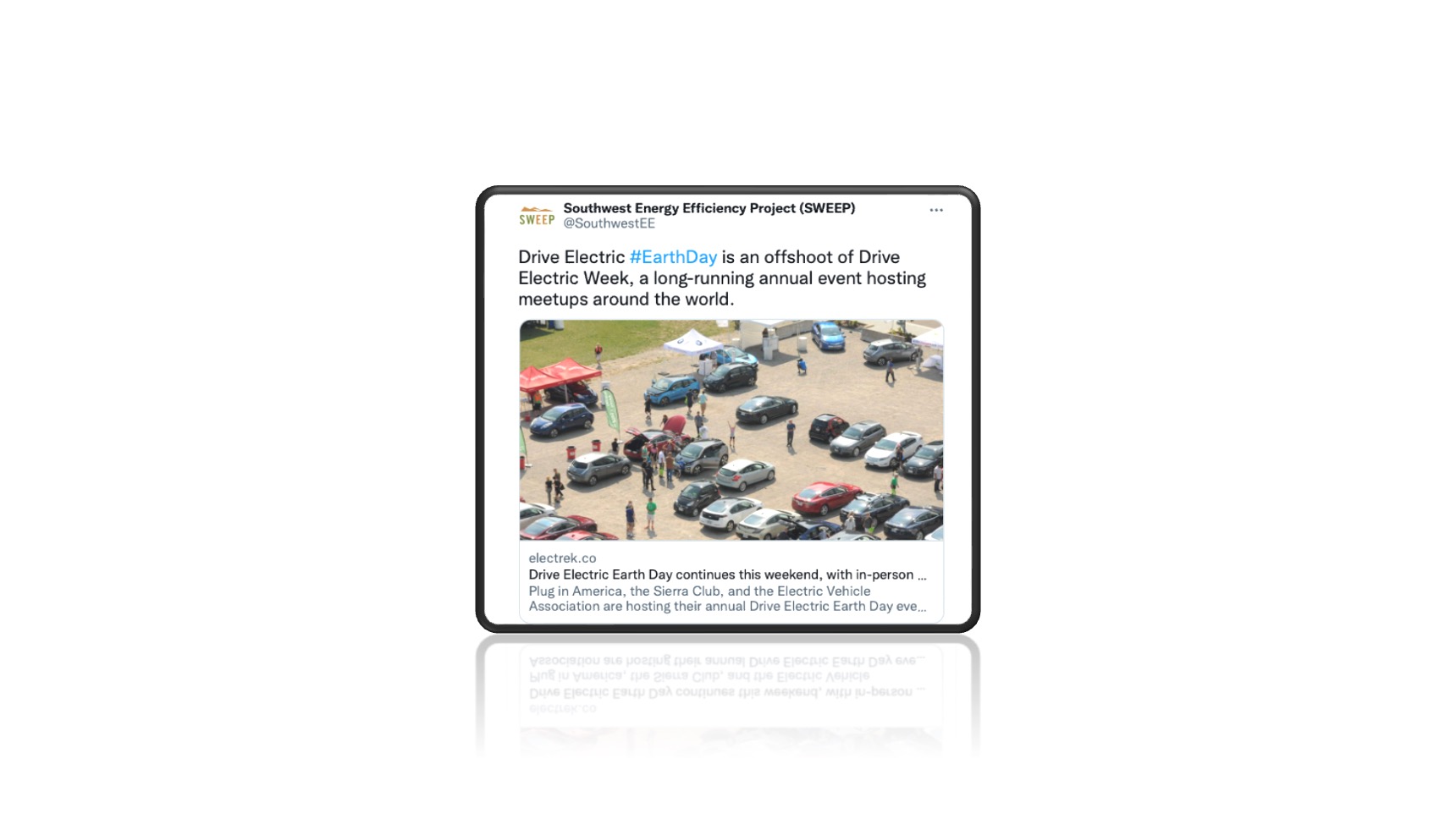 Efficiency Canada
The account: https://twitter.com/EfficiencyCAN
The tweet: We're committed to breaking down systemic barriers in order to support a diverse and equitable #EnergyEfficiency workforce. That's why we've committed to the 50-30 challenge. Read our commitment: https://www.efficiencycanada.org/50-30/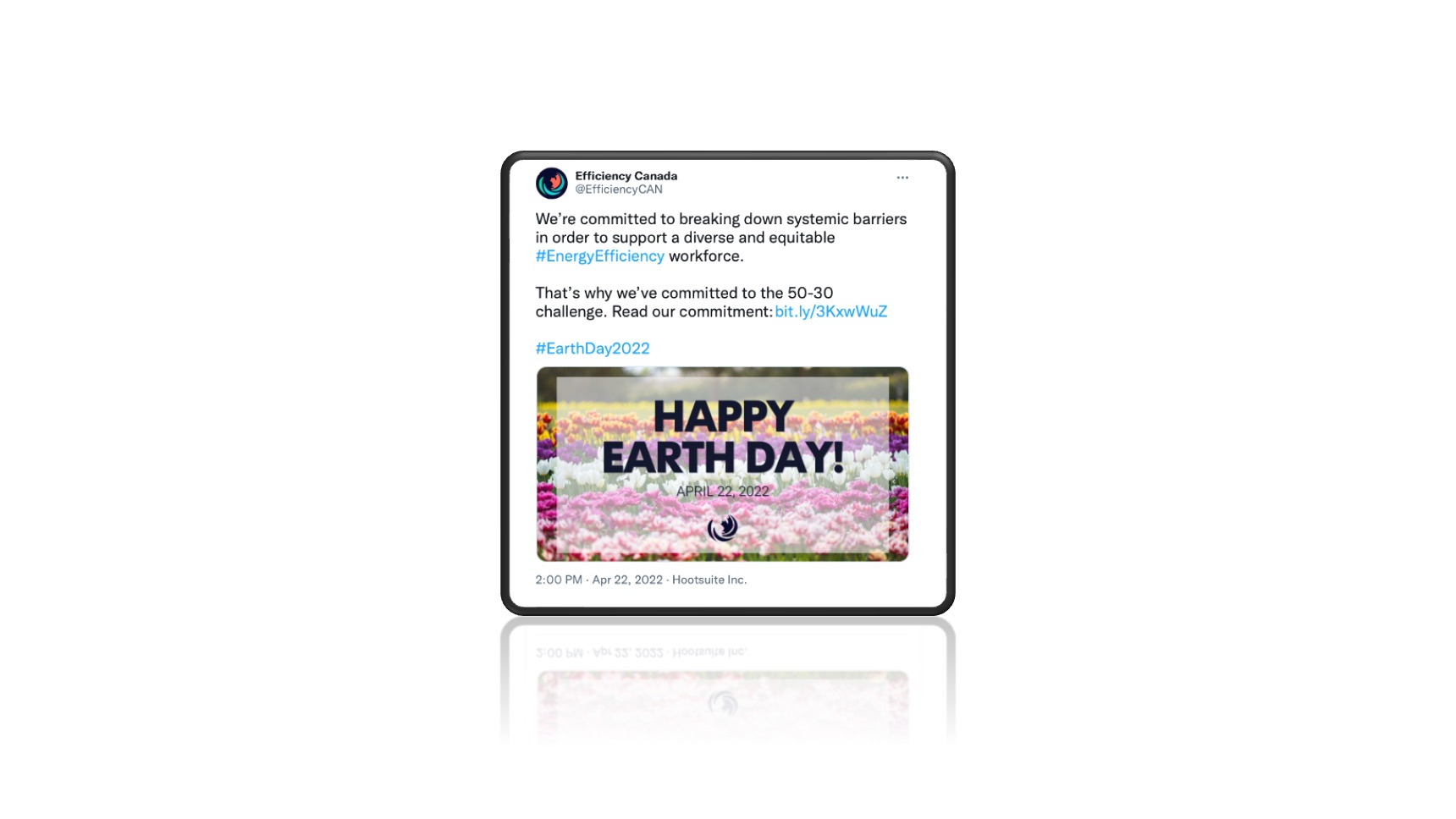 The South-central Partnership for Energy Efficiency as a Resource (SPEER)
The account: https://twitter.com/EEpartnership
The tweet: Individually & together we can (and must) make an impact on our #ClimateCrisis. With new renewable energy technology, policies to improve #energyefficiency, and a focus on reducing energy demand, we can all be the change. Get involved this Earth Day! https://eepartnership.org/2022/03/earth-day-make-it-a-part-of-your-daily-life/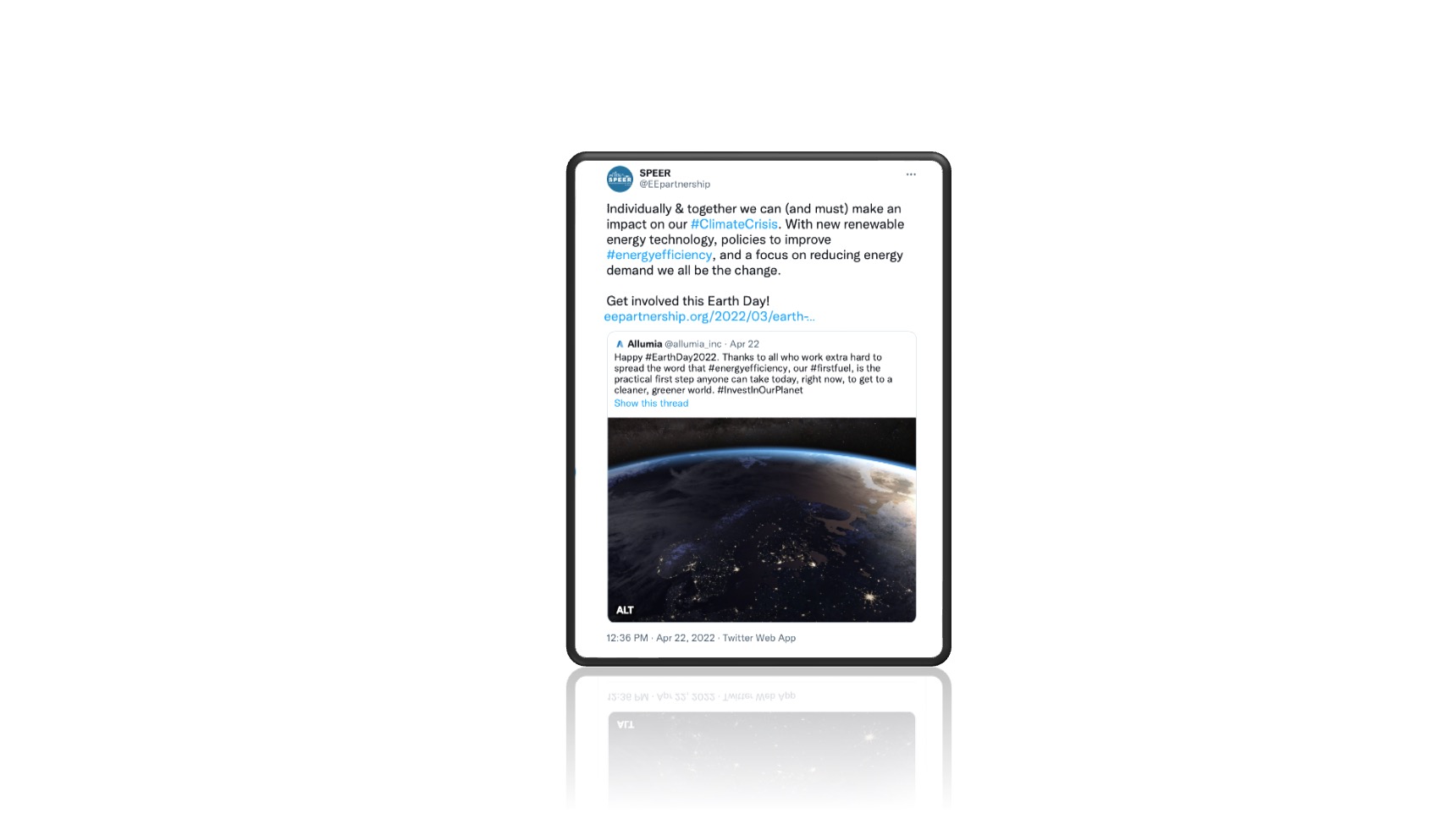 E4TheFuture
The account: https://twitter.com/e4thefuture
The Tweet: Thank you @aea_us for all you do – and for bringing #EarthDay values to all 365 days/year! #EnergyEfficiency #equity https://twitter.com/aea_us/status/1517534475428802567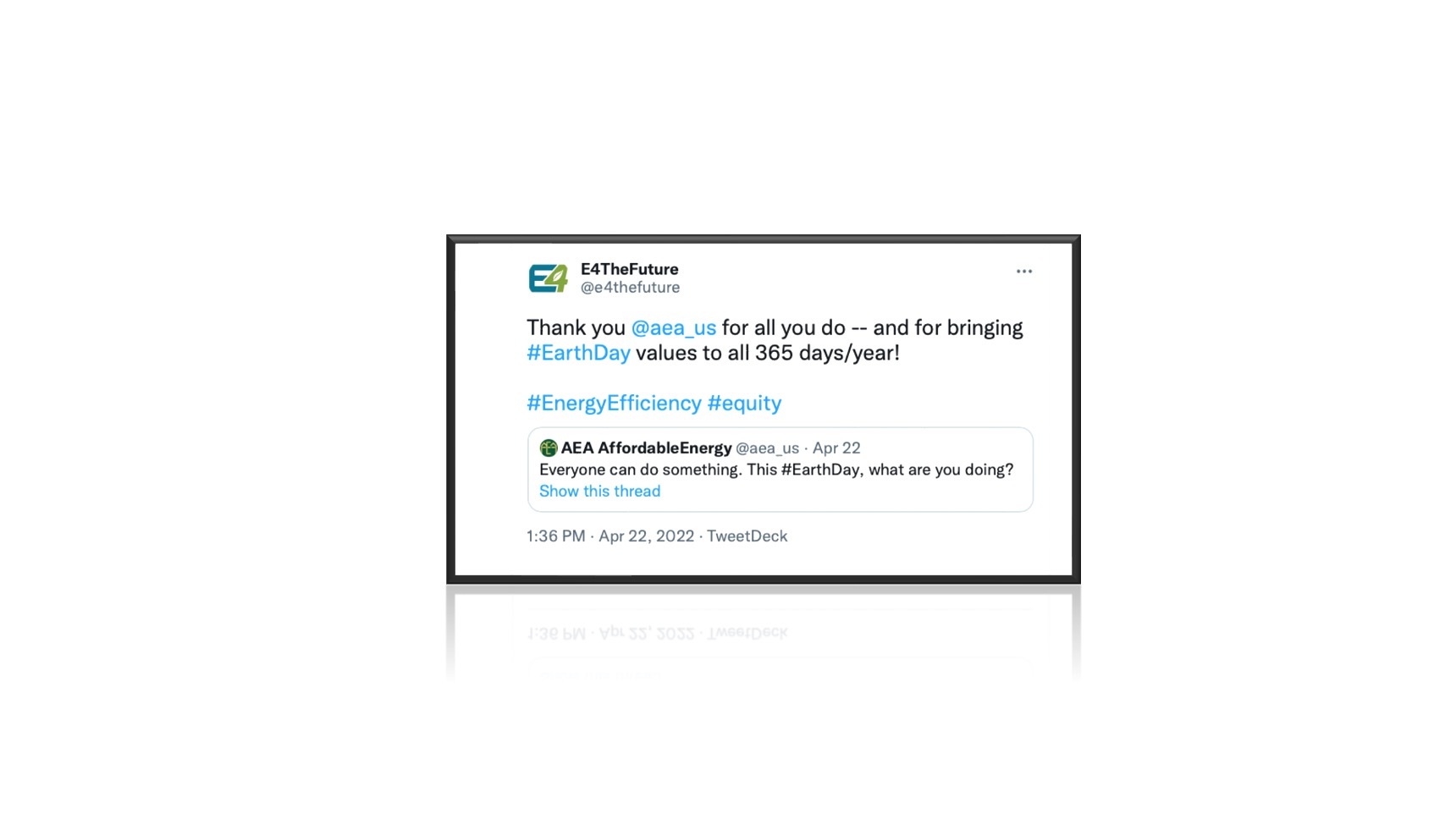 ABOUT ALLUMIA
Allumia is a market leader in the delivery of energy efficiency as a service (EEaaS) to the commercial sector with Skylight, a software platform that automates and optimizes the process of financing, metering, and maintaining projects.

Allumia's EEaaS business model overcomes the two largest barriers to large-scale adoption of energy efficiency technologies—risk and capital constraints—creating a transparent partnership that results in shared savings.